Lincoln Car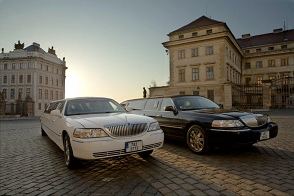 Our company has been providing rental services of luxury limousines of the highest quality since 1997. Our customers are leading corporations, VIPs, organizers of prestigious events, clients celebrating anniversaries and also weddings. We provide transport in important events, both as suppliers and sub-suppliers of transportation services. We strive to meet the expectations of every client to the highest possible level. All our cars are fitted with a mobile phone. If required we can provide a professional tour-guide or an interpreter, as well as personal protection (body-guard). According to the client's wishes refreshments in the limousine can be provided. For wedding limousine services festive decoration of the cars is included in the price.
Our company provides all these services 24 hours a day, 7 days a week. Due to our efforts we have become a sought for company on the Czech as well as the European market.
The quality and excellence of our vehicles and services is available at the highest possible level.